Los Galindos was created by coming from the worlds of circus and street theatre, during the fall of 1991. From the beginning, we are carrying out a research and investigation project geared towards the finding of a unique style within universal language of circus.
We were pioneers incorporating the Flying Trapeze in street circus performances. In 1992, Los Galindos presented themselves to the national audiences and, from 1995, to the whole world.
Training and technical retraining have allowed us to work and share our experiences with many professionals in love with the profession, while we are fortunate to have been able to learn from great masters such as Rogelio Rivel, Joan Armengol, Jean Palacy and Geza Trager. Conducted by Michel Dallaire, Los Galindos have become a European landmark for street circus, where technique is at the service of the drama game.
The vitality and generosity of our shows have always connected an audience from all ages and cultural backgrounds, and they, surprised and pleased, have lived a beautiful moment, have remembered their childhood, have laughed, have been moved or have become interested in joining a circus.
The clown grows with the company's maturity. Illusion, study and risk are our motivation, the tendency is a back and forth movement.
The project continues…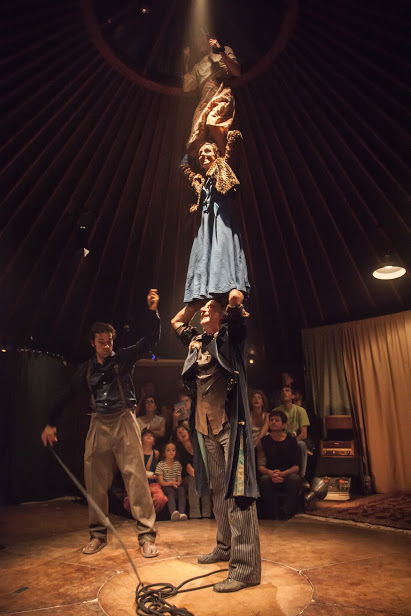 National Culture Award 2016 (Generalitat de Catalunya)