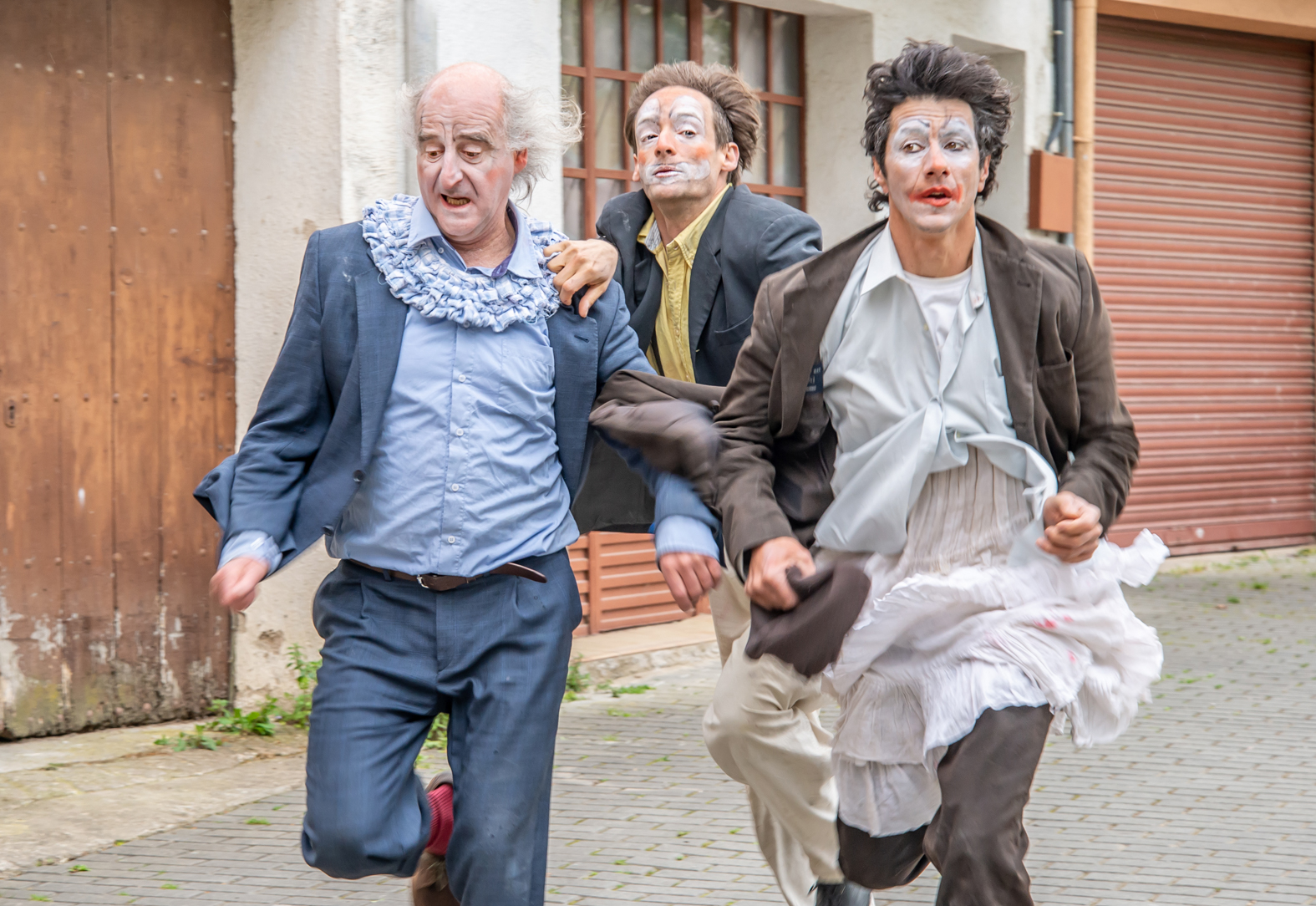 The clowns have sentenced one of their partners to death, in an act of responsibility to stop the propagation of a deadly virus, laugh.
They look for a place for the public execution, a play area that allows harmony with hilarity, a point of view free from prejudice, honest, crass, pure and tough.
A comedy inspired by public executions.
An improbable crime, a suspicious trial and an absurd punishment.
What the clowns have not foreseen is that their untamed and clumsy nature, as well as their desire and need to have fun, will distract them from the target repeatedly and they will have to find the tools or situations to regain the solemn moment they have come to execute.
Laughter is the deadly essence and the driving force behind the show. Triggering laughter means there is danger of death.
A series of failed executions, deaths, delusional and misleading situations where it will be difficult to decipher who is the victim and who is the executioner.
Likelihood will coexist with the chance of fiasco. Everything is a sham
Concept and direction: Bet Garrell and Marcel Escolano
Creation and interpretation: Anicet Leone, Gabriel Agosti and Marcel Escolano
Artistic accompaniment: Bet Garrell
Creation team until the premiere: Anicet Leone, Marcel Escolano, Santi Ruiz Albalate amd Bet Garrell
Staging: Stephane Filloc
Help in writing and staging: Joël Fesel
Conceptual complicity: Johnny Torres 
Object: Nartxi Azcazrgorta
Photos: Klara Pedrol and Mireia Guilella
Executive producer and distributor: Caterina Fiol
A production by Los Galindos
Collaborations and complicities: Adrià Naranjo, FranxiMisserachs, Imma Vilar, Antigua i Barbuda, AdrianoMarçal, Joan Cruixent, Txo Titelles, Borde Basse andJordà Ferrer.
Support to the creation: Ajuntament de Cardedeu – Cardedeu Inspirant Cultura.
With the complicity of Taula de Cultura i Joves de St. Esteve de Palautordera, Cia. Baró d'Evel , Carnage Productions and Konvent Cirk. Also, culture areas of the Town Councils of Sant Esteve de Palautordera and Granollers.
With the support of ICEC – Departament de Cultura de la Generalitat de Catalunya and Institut Ramon Llull.
A few words about the artistic team
Anicet Leone. Clown and acrobat. Art and flight adventurer. Trained in fine arts and at the Le Lidó Circus School in Toulouse. He has collaborated in various projects and companies, Crida companion, Los Galindos, etc. Currently, his involvement in Flying Frenchies conveys his artistic and inventive research.
Gabriel Agosti. Juggler and clown trained at the Circus school of Rimini and also at Le Lidó in Tolouse. Circus and cinema actor. Collaborator of Crida Company.
Marcel Escolano. Clown and comedian, co-founder of the company Los Galindos. Director of this project and actor on stage.
Joël Fesel. He landed in the world of performing arts twenty-four years ago having come from the visual arts. Co-founder of the Groupe Merci in Toulouse, France. He accompanies us in the writing and the scenographic conception of the stage space.
Stephane Filloc. Urban intervention comedian, since the nineties. He is a reference in France with his Carnage Productions project. He has participated in projects such as Freres Grumeaux, GIGN and a long list of others. He will help us with the staging and direction of the actors.
Johnny Torres. Acrobat and circus actor. Scholar and lover of the arts of risk and uncertainty. Co-founder of Los Galindos, the Circo de la Sombra and Circ Teatre Modern, among others.
Bet Garrell. Acrobat and circus artist. Co-founder of the company Los Galindos. Director of this project and stage assistant.
Street show or for an unconventional space.
Duration: approximately 60 minutes.
Performing schedule: preferably at night.
Public: over 12/14 years of age.
Capacity: limited to 150 people.
Assemble: approx. 4h 30min – Disassemble: approx. 2h

The organization will provide:
Stage:
Dimension of the space: 12 x 10 m

Flat space (without inclination), without street furniture, in front of the façade of a residential building or a wall.

15 fences 2m high to delimitate the space.

Access with a vehicle for loading and unloading.
Electricity and illumination:
Electrical connection: 220V/16 A.

Be able to turn off streetlight if needed.
Staff:
1 stage manager when the company arrives and leaves.

2 people for loading and unloading, who will also help with the fences.
Camerino – License – Parking:
Dressing room for 3 people with WC and shower with hot water.

Drinking water for 3 people from when the company arrives until it leaves.

The organization will manage all the needed licenses.

Foreseeing parking for the truck and a trailer of 13m.
Note:
This show has not any sound needs. There isn't soundtrack and the actors speak without microphones.
Contacts:
Technical: Marcel Escolano tel: +34 649 29 78 35

Production: Caterina Fiol tel: +34 634 73 34 49
Distribution: Daphné Malherbe tel: +34 617 07 08 32